Software installation for MCCI 3141
If you're confused by the various links for the software, please go to https://github.com/mcci-usb/Cricket/releases/, and download the release file needed for your system.





No need to download sources, pre-requisites, or anything else.





The official release files are signed by MCCI for Windows and macOS, so they're the best starting point.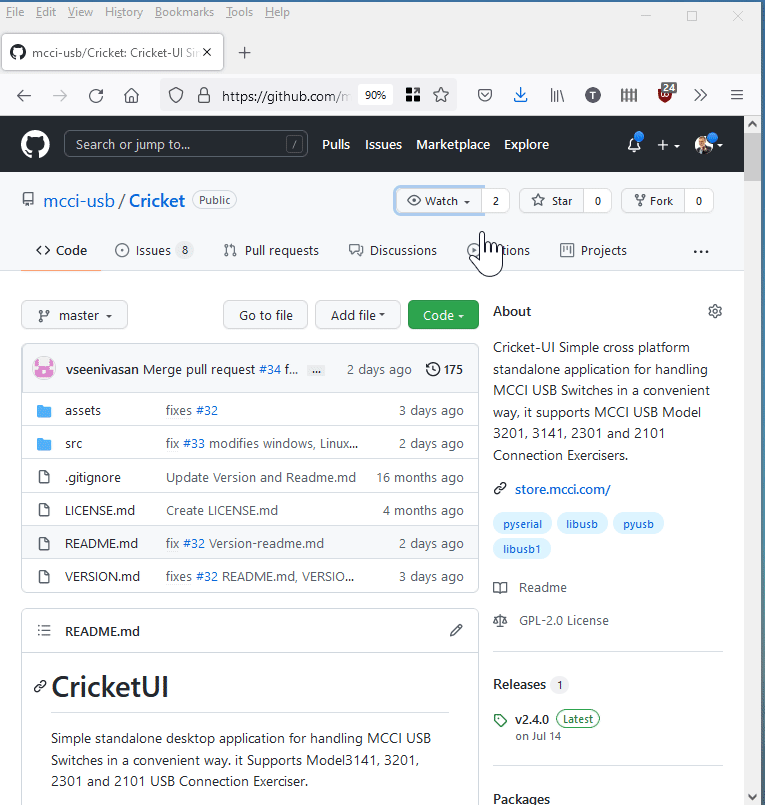 Related Articles

MCCI Cricket UI Software and Documentation

MCCI® has created a versatile and easy-to-use MCCI Cricket UI that works across different platforms and devices. It allows you to control various MCCI products such as the Model 3142 USB4™ Switch with EPR, Model 3141 USB4™ Switch, Model 3201 Enhanced ...

MCCI Model 3411 Users guide, Windows Drivers & Test Tools

The MCCI Model 3411 has two USB ports -- a micro-B port for control, and a Type C port that is the test device. Use of the control port is optional. If left open, the 3411 will get power from the Type C port. If a charger is attached to the control ...

Model 2101 Software and Documentation

Please scroll to the "attachments" tab below to download the software and documentation. Version 1.18 of the Model 2101 Connection Exerciser software package includes support for the following systems: Windows desktop (32 bit and 64 bit) OS X ...

MCCI USB Switch 3141/3201 GUI

MCCI announced the "Cricket UI" a new cross-platform, open-source GUI for interactively controlling MCCI's USB Switches and Connection Exerciser. Please find the MCCI Cricket UI software information and latest release links ...

Model 2101 software for ARM Linux

The file mcci2101-V1_19a-arm-none-linux-gnueabi.tgz is an experimental version of the mcci2101 program, targeting embedded ARM platforms such as Raspberry Pi, the SabreLite i.MX6, and other platforms running relatively recent Linux kernels. $ file ...