MCCI Cricket UI Software and Documentation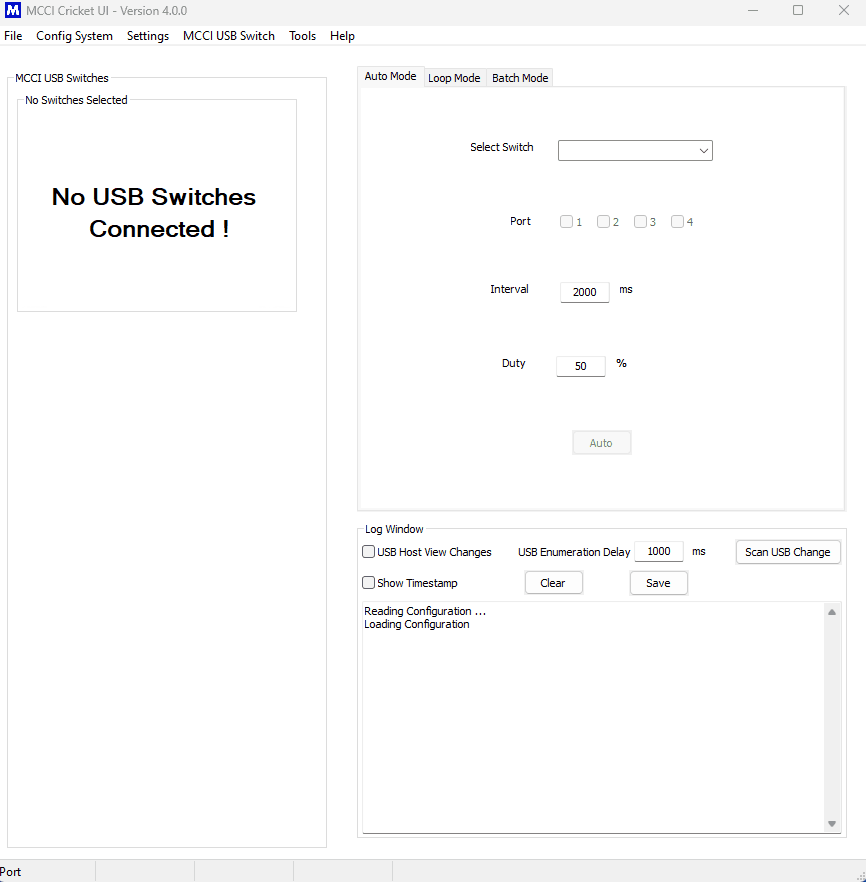 MCCI Cricket UI v4
You can download the latest version of the MCCI Cricket UI software package from our MCCI GitHub page.
It supports the following platforms:
Windows 10 and 11 32-bit and 64-bit

macOS 64-bit (Catalina to latest)

Linux 64-bit (Ubuntu 20.04 and 22.04)

ARM Linux (Raspberry Pi - arch 64-bit Ubuntu 20.04 OS)
The package also includes the MCCI Cricket UI user guide that explains how to use the GUI application and other control options.
If you encounter any problems or have any questions about the MCCI Cricket UI or its installer, please open an issue in the GitHub repository or create a support ticket in
https://portal.mcci.com/.
Models supported by Cricket UI:

Related Articles

MCCI USB Switch 3141/3201 GUI

MCCI announced the "Cricket UI" a new cross-platform, open-source GUI for interactively controlling MCCI's USB Switches and Connection Exerciser. Please find the MCCI Cricket UI software information and latest release links ...

Model 3141 USB4™ Switch Documentation

Image of MCCI Model 3141 USB4 Switch, with US dime for scale The formal documentation for the Model 3141 USB4 Switch is coming soon. Connect the micro-B port to a PC using a standard USB cable. The Model 3141 will appear as a serial port on Windows ...

Model 2101 Software and Documentation

Please scroll to the "attachments" tab below to download the software and documentation. Version 1.18 of the Model 2101 Connection Exerciser software package includes support for the following systems: Windows desktop (32 bit and 64 bit) OS X ...

Software installation for MCCI 3141

If you're confused by the various links for the software, please go to https://github.com/mcci-usb/Cricket/releases/, and download the release file needed for your system. No need to download sources, pre-requisites, or anything else. The official ...

User manual for the Model 2301 Type-A USB 3.2 Gen2/1 Connection Exerciser

Model 2301 Type-A USB 3.2 Gen2/1 Connection Exerciser Attached to this page you will find the "Model 2301 Type-A USB 3.2 Gen2/1 Connection Exerciser", along with sample batch files mentioned in that document. Please go to the "attachments" tab above ...